---
Sharonah Rapseik, PhD, ASCP, HHC, AADP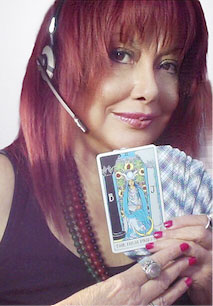 Sharonah Rapseik is Host of Magic Universe with Sharonah, the 2nd & 4th Sundays of the month, and a Producer for Psychic Talk Radio. She is a Certified Master Angel Practitioner™ and Life Coach, as well as a Certified Angel, Oracle and Tarot Card Reader™
She is also the creator and instructor of the world's first combined Usui and Angel Reiki course – The Certified Angel Reiki Practitioner™ Course!
Sharonah discovered at an early age that by holding a simple deck of playing cards, she could receive visions and could connect instantly with Angels and Divine Intelligence.
This gift helped her to become a successful fashion designer and cosmetics executive, but her greatest passion has been helping others as a tarot reader and angel practitioner.
Sharonah lovingly connects you with your angels and loved ones in spirit to give you the peace of mind you need when faced with life's challenges. She can help you remove negative thought patterns from your present and past lifetimes.
As a life coach, she can give you clarity, direction, and self confidence to achieve your highest potential. She especially loves working with holistic and spiritual entrepreneurs! Sharonah is ready to empower you in re-envisioning a beautiful new future of your choice.
Upcoming & Past Episodes:
PsychicTalk.net/MagicUniverse
Certified Angel Reiki Practitioner™ Course
---
Got a question? Book a Session with Sharonah!
1/2 Hour Sessions are $60 – Hour Sessions are $100

---
All Services by Appointment Only
(212) 688-8411  •  sharonah@spaholistica.com
SPA Holistica is registered in the United States Patent Office 2008.
The information found on this website is not intended to replace recommendations or advice from physicians or other healthcare providers. If you suspect you have a medical problem we urge you to seek medical attention from a healthcare provider.